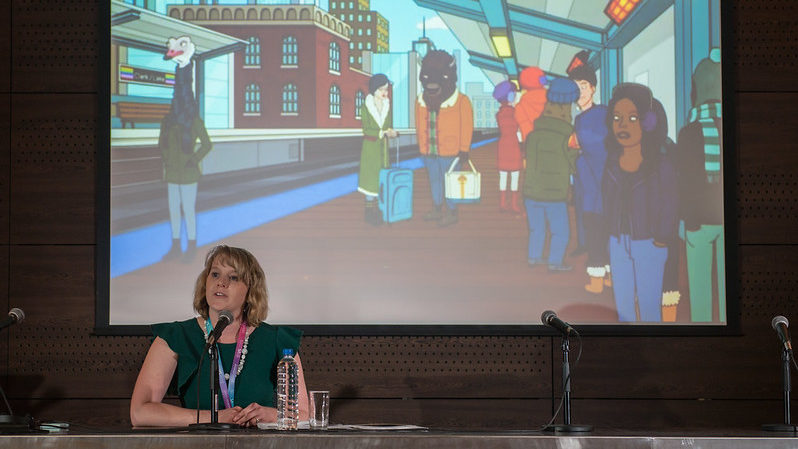 Alison Tafel´s Keynote at Animation! – Ventana Sur "Writing BoJack Horseman"
A behind-the-scenes look at how writers land in adult animated writers rooms, and what they do once they're in there.
Alison just finished her third season writing on Netflix's Emmy-nominated series, "BoJack Horseman", serving as Executive Story Editor in the show's final season.
She has just received a nomination to the Annie Awards in the Best Writing – TV/Media category for her work as writer in the series.
In 2016, she was one of six writers selected from 1100 applications to attend the NBC Late Night Comedy Writers Workshop in New York, and she is currently a finalist for the 2019 Humanitas New Voices Award for her pilot "A Little Much."
During her keynote speech in Animation! at Ventana Sur, Alison spoke about her professional career, which began with her as a fan of 'BoJack Horseman' until becoming a writer for the series, and how is the world of scriptwriters for adult animation. She also gave tips for those scriptwriters looking to write their stories.
Tafel was a fan of 'Bojack Horseman' and when in 2016 they were looking for a new writer for the team she decided to apply for the job. Her career wasn't easy, she prepared for years in order to be ready. There she understood that animated comedy for adults was a difficult world for a woman; but then she found out that all worlds are difficult for a woman. Achieving a place as a professional woman was her motivation at the time and it still is today.
As for the show's writers' team, having a mixed team makes everything more balanced and that's very rare in this industry.
Her presentation allowed everybody to get to know the secrets behind the creation of a successful show, but it also turned out to be a motivational talk for women in the industry and for young scriptwriters looking to develop the work of writing content for adults and move forward in their careers. She emphasized the singularity of her journey with a sincere narrative, as one of the possible ways (but not the only one) to achieve professional success doing what she likes.
Full presentation video: